CHRYSALIS SHORTLISTED FOR TWO MAJOR AWARDS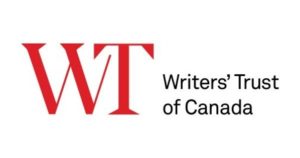 Chrysalis has been shortlisted for the Writers Trust of Canada's Dayne Ogilvie Prize for LGBTQ2S+ Emerging Writers AND the Governor General's Literary Award for Fiction.
For more information and to check out all the shortlisted titles:
CHRYSALIS IN STORES NOW!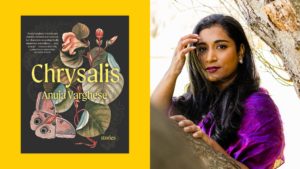 Chrysalis officially released on March 14, 2023!
Check out some early rave reviews:
COVER REVEAL!
Check out the stunning cover of Anuja's debut short story collection CHRYSALIS, out March 2023 with House of Anansi Press.
Order it here: Chrysalis, Book by Anuja Varghese (Paperback) | www.chapters.indigo.ca
Deal News!
Pushcart Prize Nomination, December 2021
Anuja was thrilled to pick up a Pushcart Prize nomination for "Throwing Salt" as featured in The Quarantine Review.
Anuja is (Virtually) Going to Banff, August 2021
Anuja was selected to participate in the Emerging Writers Intensive Online Program at the Banff Centre for Arts & Creativity. She will workshop a portion of her novel-in-progress with mentors Katherena Vermette, Michelle Good, and Amber Dawn.
Short Works Prize News, December 2020
Anuja picked up two Honourable Mentions for both fiction and creative non-fiction in the 2020 Short Works Prize Competition presented by Hamilton Public Library and Hamilton Arts & Letters Magazine.
Emerging Writers Reading Series, February 2020
Anuja reads an original fairy tale at Glad Day Bookshop as part of the Emerging Writers Reading Series February 2020 event. Watch the clip below for the opening of "A Very Small Woman & A Silver Looking Glass" and read the full story at Corvid Queen.